Welcome to Flourish and Nourish Through Menopause – this is THE online course for every woman who is in peri-menopause or menopause and is feeling like their body or their symptoms are out of control and are unsure of what to eat or what changes to make to feel better. 
Take a look at our intro video to learn more!
We are Lee from Supercharged Food and Belinda, expert Naturopath and Nutritionist and between us, we have helped thousands of women to optimise their health and hormones. We absolutely cannot wait for you to be armed with all the knowledge and tools you need to live your very best life now and into the future!
The Flourish and Nourish Through Menopause 6-week course gives you exactly what you need to know about how to manage common menopause symptoms at home, feel less stressed, have more energy, reduce risk factors for common conditions, feel positive and in control and have a thorough guide about what to eat for optimal health and weight management.
If you want to feel your very best through peri-menopause and menopause why not take a look at our video to learn more about this revolutionary course? And if you're keen to feel better and get things moving in the right direction you can sign up to the course here. SIGN UP HERE NOW
During the course you'll be guided through the following modules with video, written content and activities. You'll have access to…
Instructional videos
Information, tips and tricks to help you through this transitional period
Menopause positive activities
Over 50 delicious and easy to make recipes created by Lee Holmes from (www.superchargedfood.com)
Recipe videos to make it even easier!
Meal plans – Yoga instruction videos
Guided meditation audios
These tools can be accessed at any time during the entire course. The course is broken down into six in-depth modules which can be accessed each week.
You'll complete initial and final benchmarking questionnaires to see your progression throughout the course and the progress that you've made! And if you're time poor and feel like you don't have the space, the great news is that you'll have six months to complete the six modules AND you can continue to use the recipes, meditations and yoga videos even after you complete the course!
Flourish and Nourish Through Menopause also includes access to a private Facebook group where you can connect with like-minded women, give feedback, start discussions and tune in for Facebook Lives with qualified nutritionist and naturopathic professionals Lee and Belinda.
Each week another module will open up for you to explore.
Here is an outline of what you can expect from this groundbreaking course;
Module 1 – Understanding Menopause and Managing common symptoms
This module helps you to understand what is happening during the menopause transition and where oestrogen can be produced after menopause to keep you feeling your very best. The top 17 menopause symptoms are explored with practical tips on how you can manage these symptoms at home.
Module 2 – Nutrition for Menopause Part 1
In Week 2 we begin diving into nutrition and how food can help to improve our menopausal symptoms and your future health. We have detailed info on which nutrients are essential for menopause and we list the Top Ten foods for menopause and learn how to make a balanced meal plan.
Module 3 – Nutrition for Menopause Part 2
There is so much to learn about nutrition! In this week we learn about which foods and substances can negatively affect menopause while dispelling common myths and helping you learn how to best choose foods when you are shopping. We offer nutritional advice for each stage of the menopausal transition and detail which supplements might be right for you. Each supplement/nutrient is explained in detail and includes which form to look for and what dose to take along with our top brand suggestions.
Module 4 – Impact of Lifestyle on Menopause
Exercise, sleep, stress and friendships can have a massive impact on menopausal symptoms. We detail lifestyle tips for optimal hormonal health, how to ensure a good night's sleep and some tips for managing stress. Which types of exercise are beneficial for menopause are explained along with do-at-home yoga videos and guided audio meditations.
Module 5 – Preventing Long Term Health Risks After menopause comes an increase in the risk of certain long term health conditions. Learn about how to minimise your risk factors and understand the ongoing health checks and blood tests that are useful for focusing on wellness and prevention.
Module 6 – Pulling it all together and making a plan for the future
By week 6 you'll have learned everything there is to know about menopause and how to flourish and be nourished through the process. Menopause isn't something we're trying to fix, but something we're trying to transition through with ease. This week wraps up all you have learned and helps you to make a plan moving forward to allow you to eat well, move more and better manage stress.
We can't wait for you to join the Flourish and Nourish Through Menopause family. We're here ready and waiting for you to become the best version of yourself! So what are you waiting for? This course is the ultimate course for anyone in peri-menopause or menopause and will make you feel on top of the world!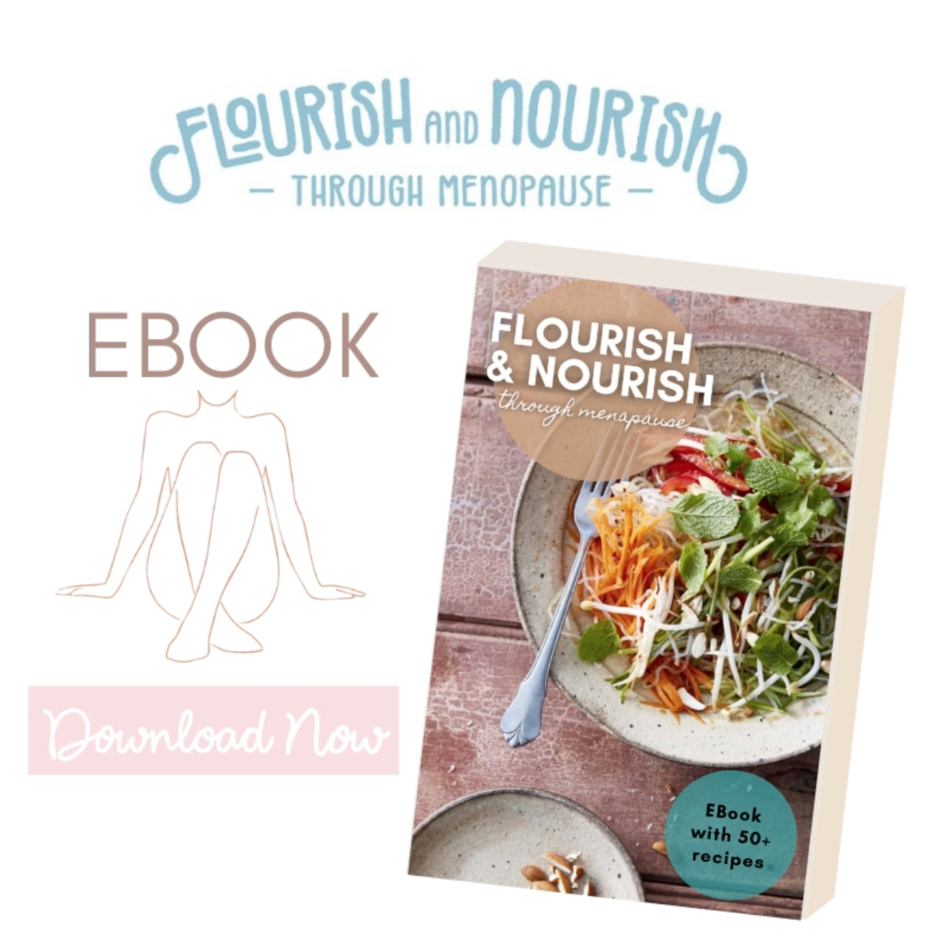 This companion eBook with 50+ tailor made recipes is free with the course. Or purchase
here
for $24.99.